Eurogroup for Animals –
Speak for animals
Our challenge was to create a Social Media Campaign to spread awareness in animals' welfare and foster the commitment of European citizens and Institutions. The core message is powerful and works well when adapted to single species or specific audiences too: "Animals can't speak for themselves, but you can raise your voice in their name".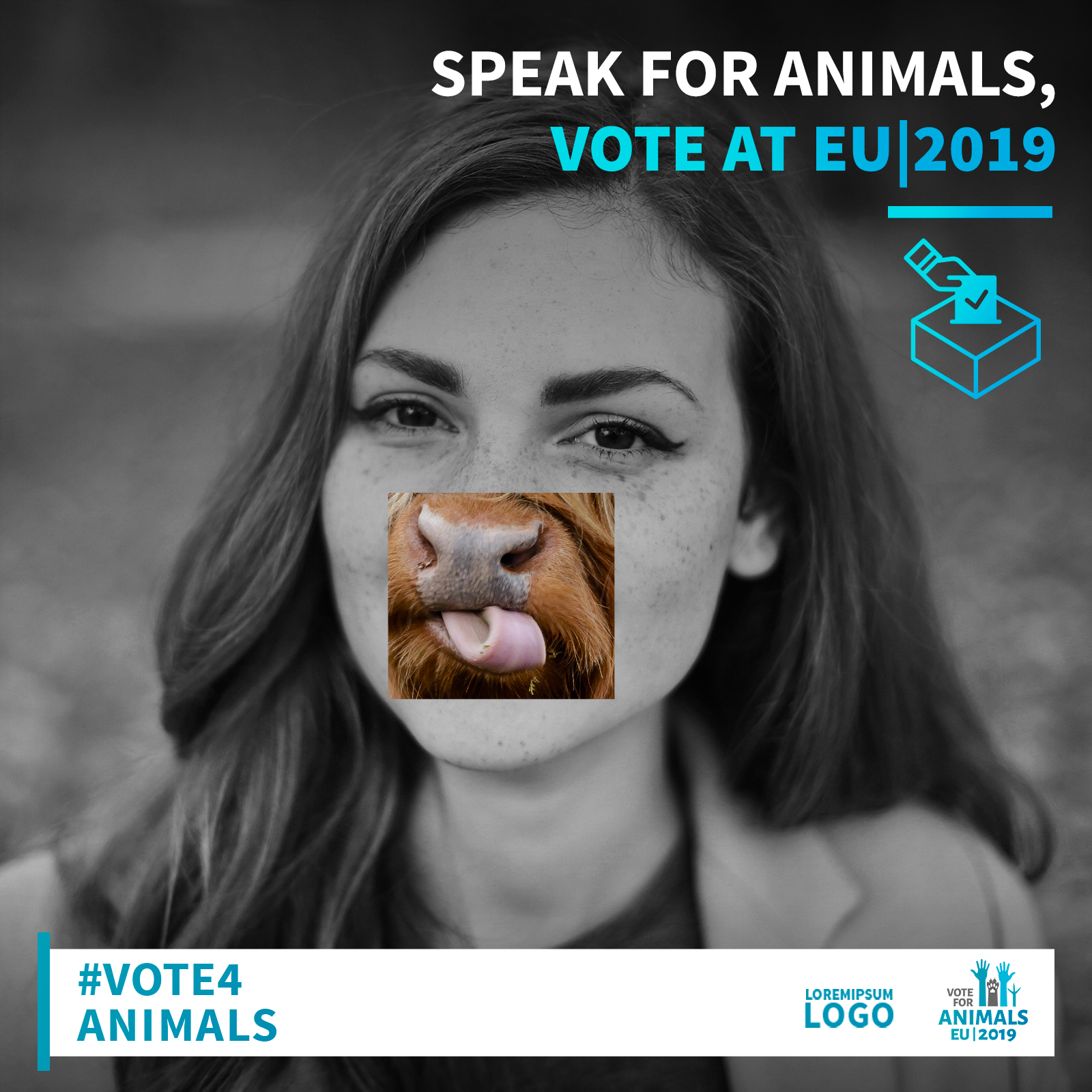 Animated gifs
A series of different CTA designed to be posted in the second, informative phase of the Campaign.
The assets invite to find out more about animals' welfare, European commitment and policies, and EFA's work.
We provided five gifs dedicated to five different specific themes: circus animals, caged hens, guinea pigs conditions in labs and others. Each of them was designed with a catchy, playful mood, in order to grab greater attention.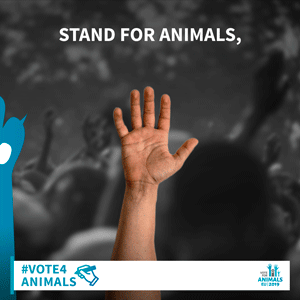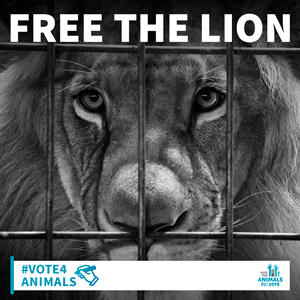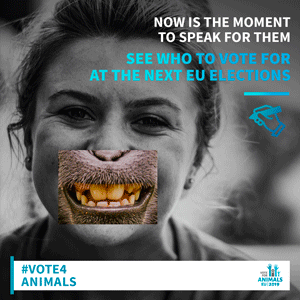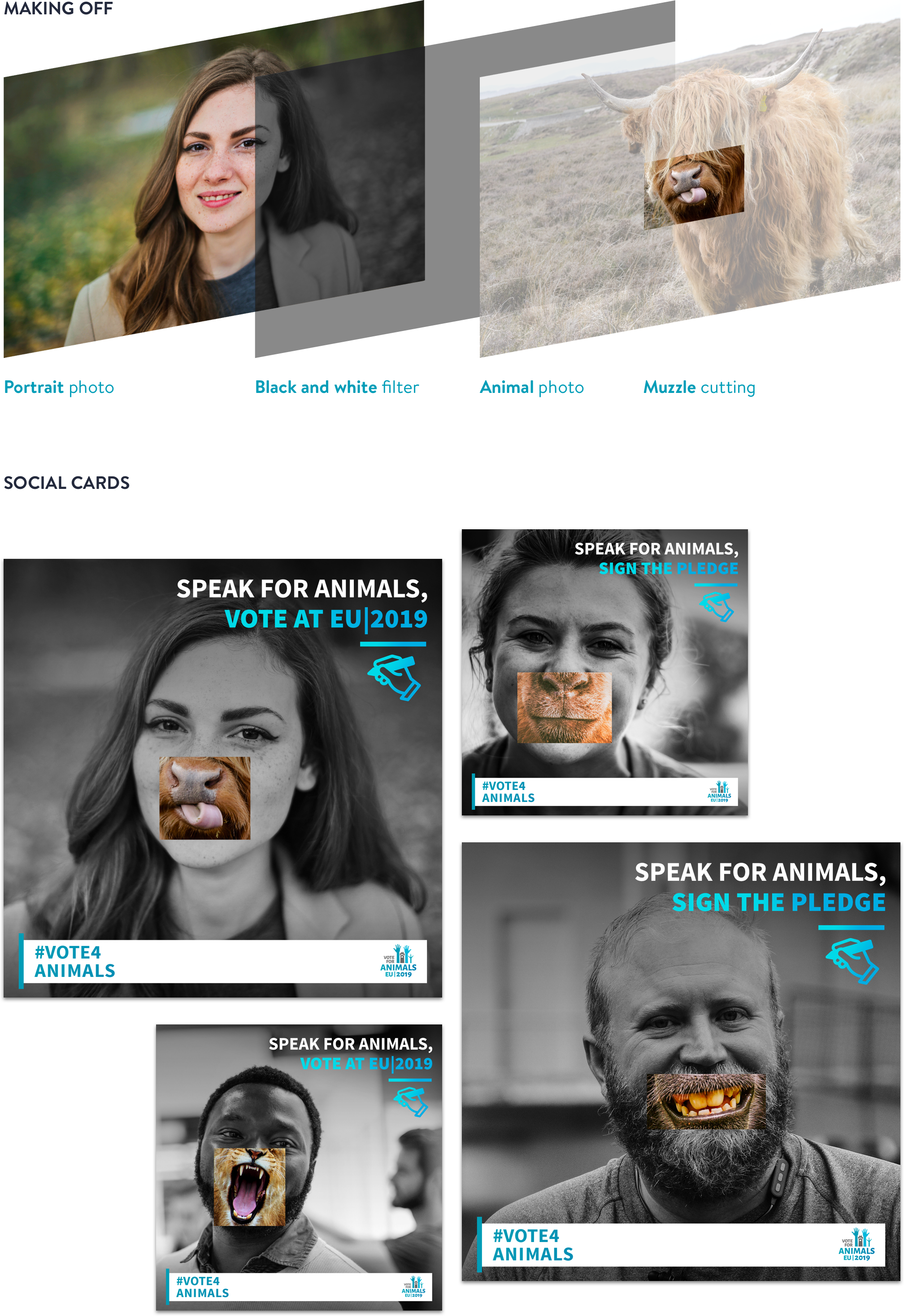 Social media cards
The visual is built around the main concept: humans with a colourful muzzle instead of the mouth.
We chose a general proactive mood and a clear, positive tone of voice, which also encourages the audience to believe that their voices matter, along with that of animals. For the Social Cards, we created two templates based on the two different targets of the campaign: one is designed for MEPs with the "Sign the Pledge" CTA; the other for the European Citizens is with the "Vote at EU | 2019" CTA to motivate them to take action.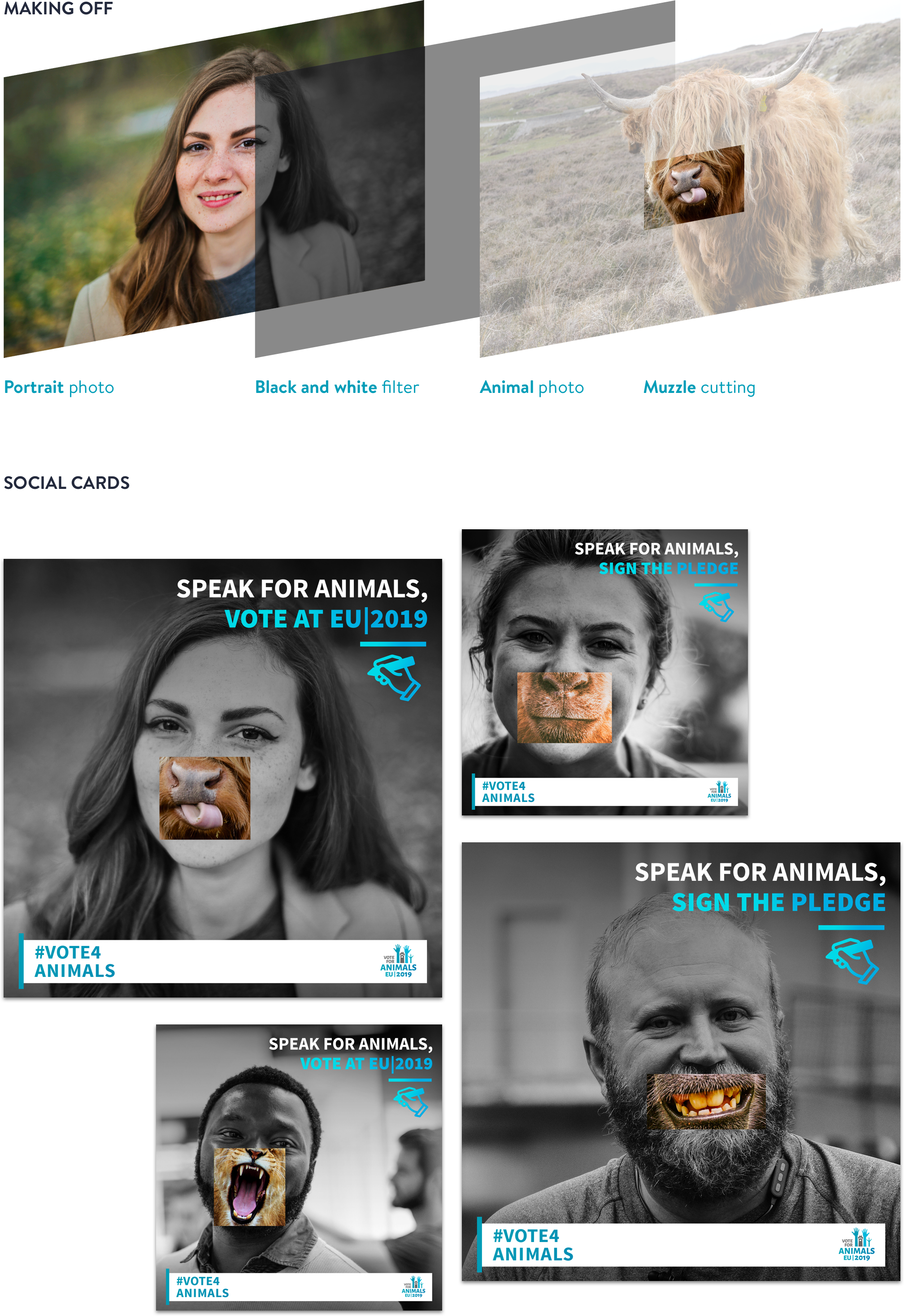 Compassion In World Farming –
End the cage age
We collaborated with Compassion in World Farming (CIWF) and launched a campaign that aims to end the use of cages in the farming of animals across the European Union. The aim is to raise awareness and inspire people to take immediate action.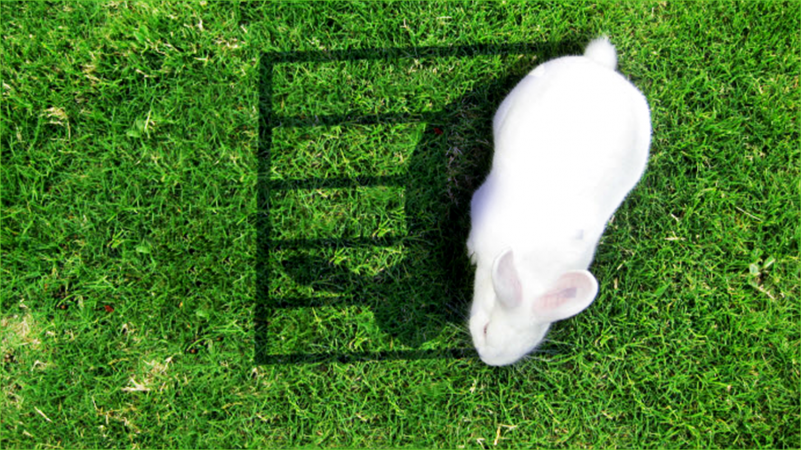 Branding
Vivid images and strong ideas.
We created and proposed various campaign concepts. Our first proposal was aiming to let people know what they have in their plates comes from pain and suffering. We created a strong visual and direct to the point straplines. "Made in Cage, Let Them Out" was a clear call to action and a statement for no quality can come from cruelty.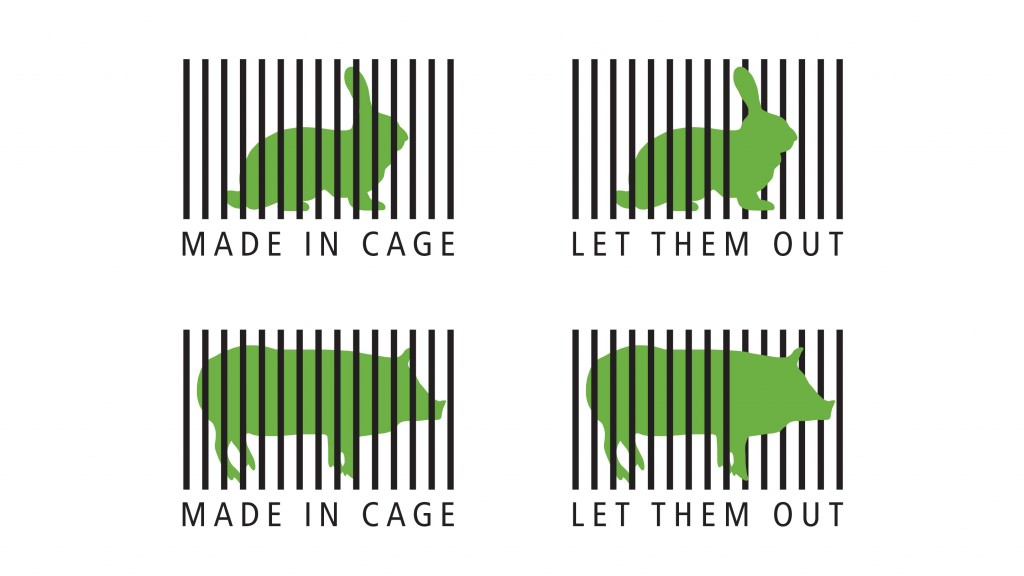 After so many trials and proposals we have reached our final design. Our aim was to trigger a sense of obviousness and urgency, and shouting out loud that "We need to take action now! Cages are against nature".
The sense of a paradigm shift "away from the age of the cage" is also reflected in the design with shapes of the animals in a cage created in the style of iron age artworks.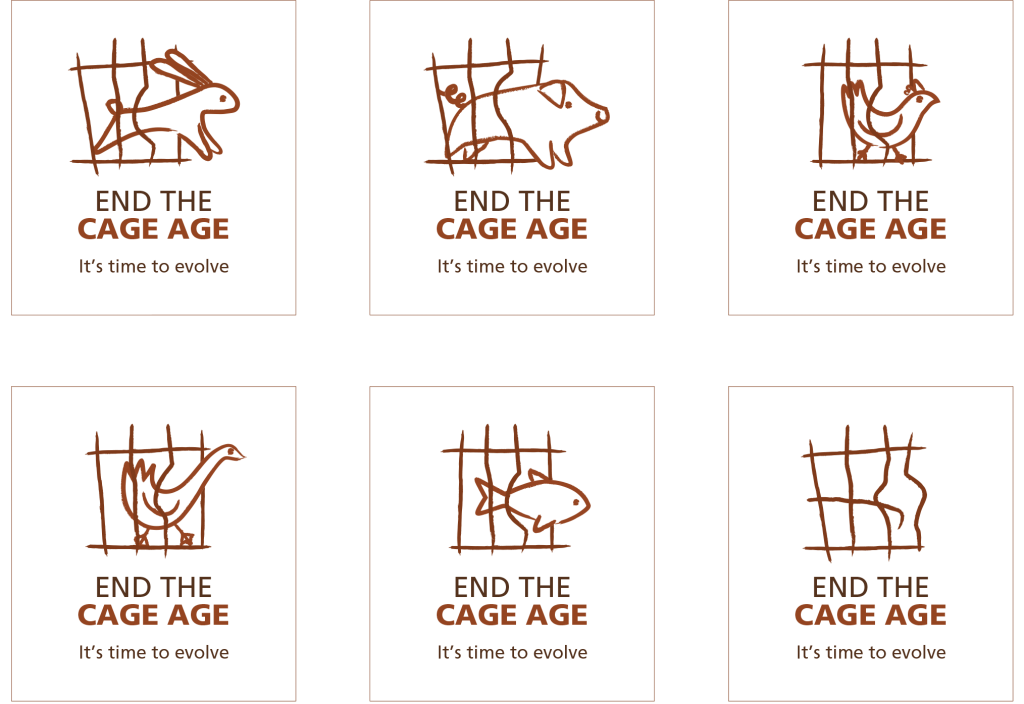 Naming
We didn't want to push the "drama" button.
The Cage Age is a concept which immediately calls the image to mind. "End the Cage Age", the campaign name, successfully called the people to action while denouncing the obvious problems of cage-farming. The tone we have chosen for this campaign is funny, catchy and striking.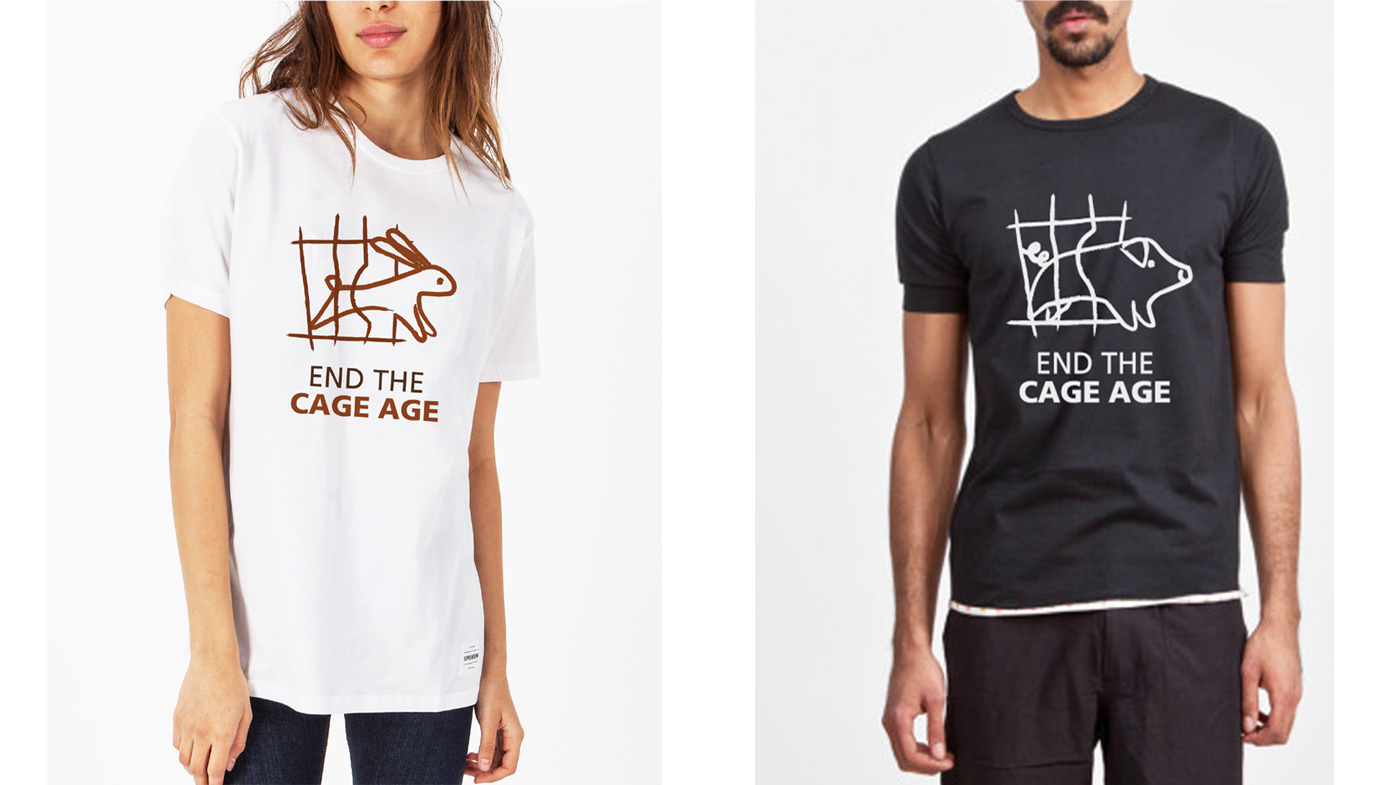 Approach
We structured the campaign for being participatory and innovative.
We believe that action is a positive thing and we'd rather focus on that. We aimed to target people who are shaken up by the desire for social change everywhere. With this campaign, we wanted to raise awareness and change the approach to the animals in cages.
Eurogroup for Animals –
Fish welfare campaign
We were asked to create a communication toolkit that would spread awareness of fish welfare issues through its member organizations' social media channels.
Our challenge was to produce assets that would combine scientific notions with creativity and irony, in order to immediately catch the audience's attention and subsequently convey the core message.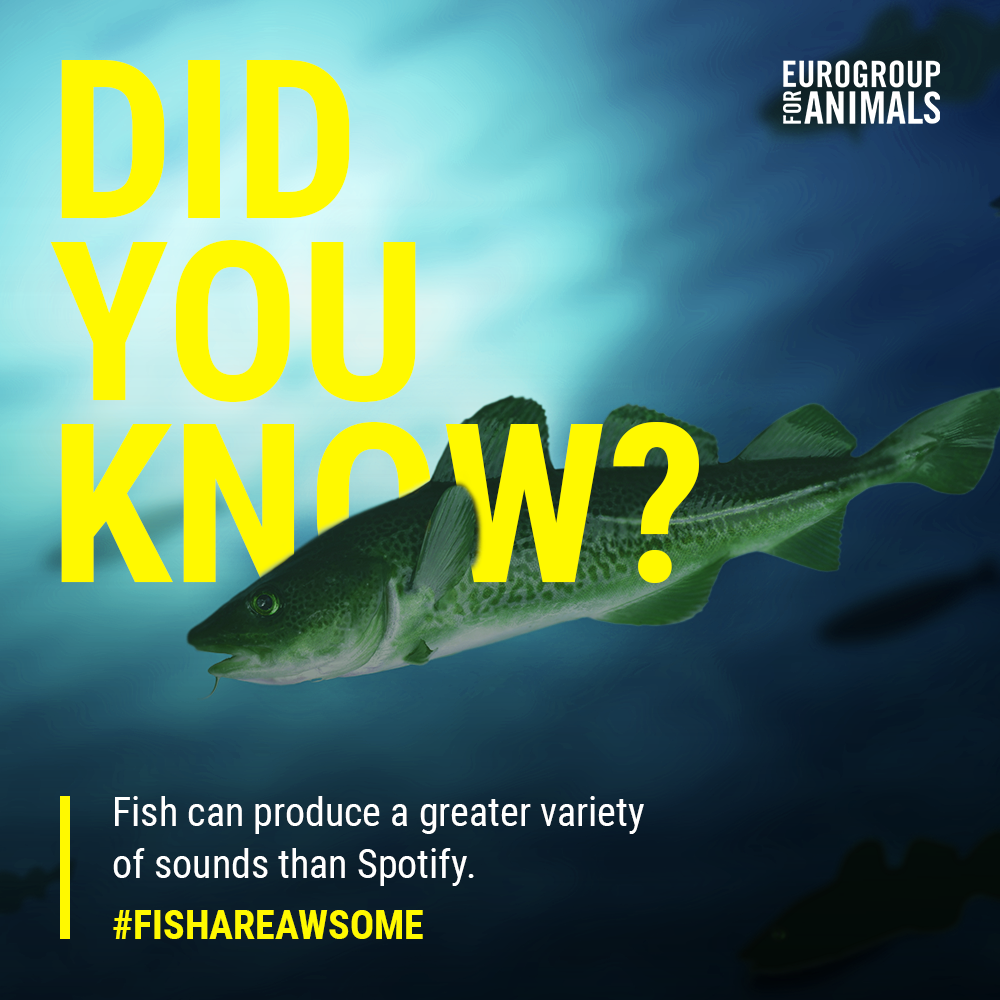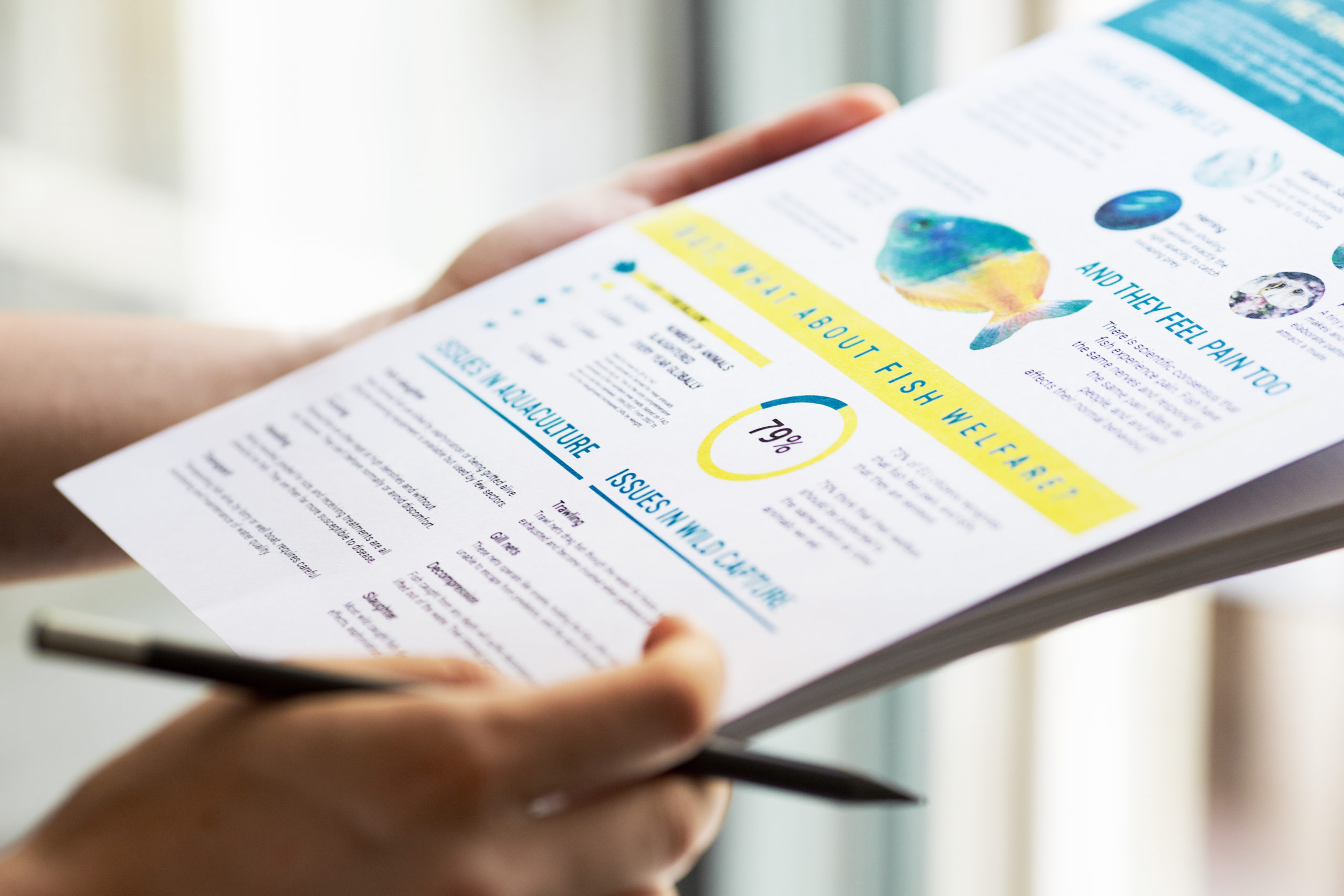 Campaign strategy
A complete, coherent and customizable communication toolkit.
We've decided to include in the final toolkit, in addition to social media assets, a data-factsheet and a list of specific social media guidelines concerning strategic and practical tips besides the full templates package.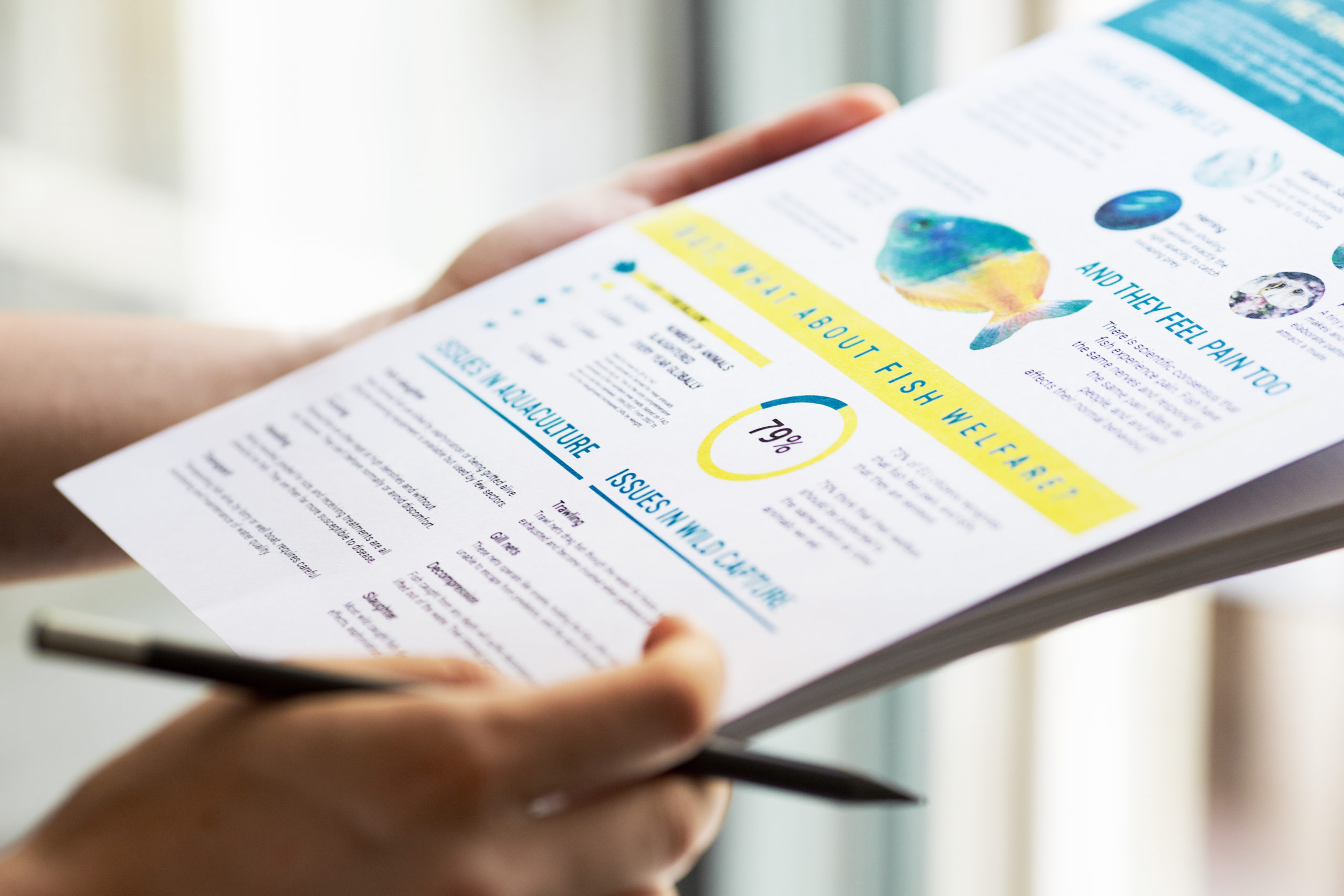 Animated videos
Positive storytelling and cute images.
To enrich our kit, we added animated videos to talk about fish welfare in a funny way. Thanks to a combination of positive storytelling and cute images, each video represents a tiny glimpse of knowledge for a big leap in awareness.
Polls
Capture and keep the audience's attention.
We encouraged the audience's engagement and interaction with some short funny animated polls; they are a great tool to acknowledge fishes' importance and coolness!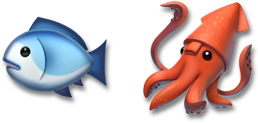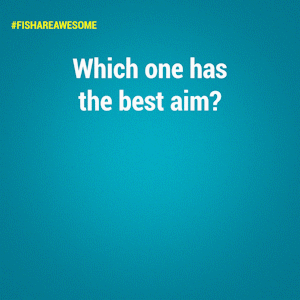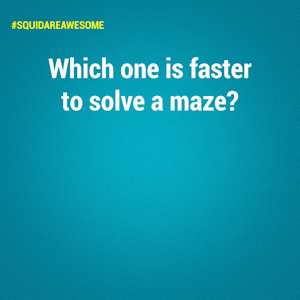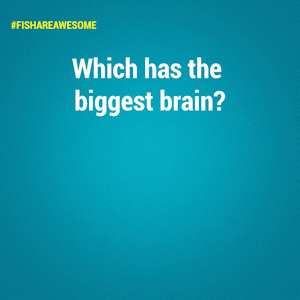 Social cards
A set of colourful social cards and animated gifs to engage the audience and boost their interest in the awesome world of fish.
Each asset tells a different scientific fact about a marine species, using an informal tone of voice and ironic associations with the tech world for an extra layer of fun.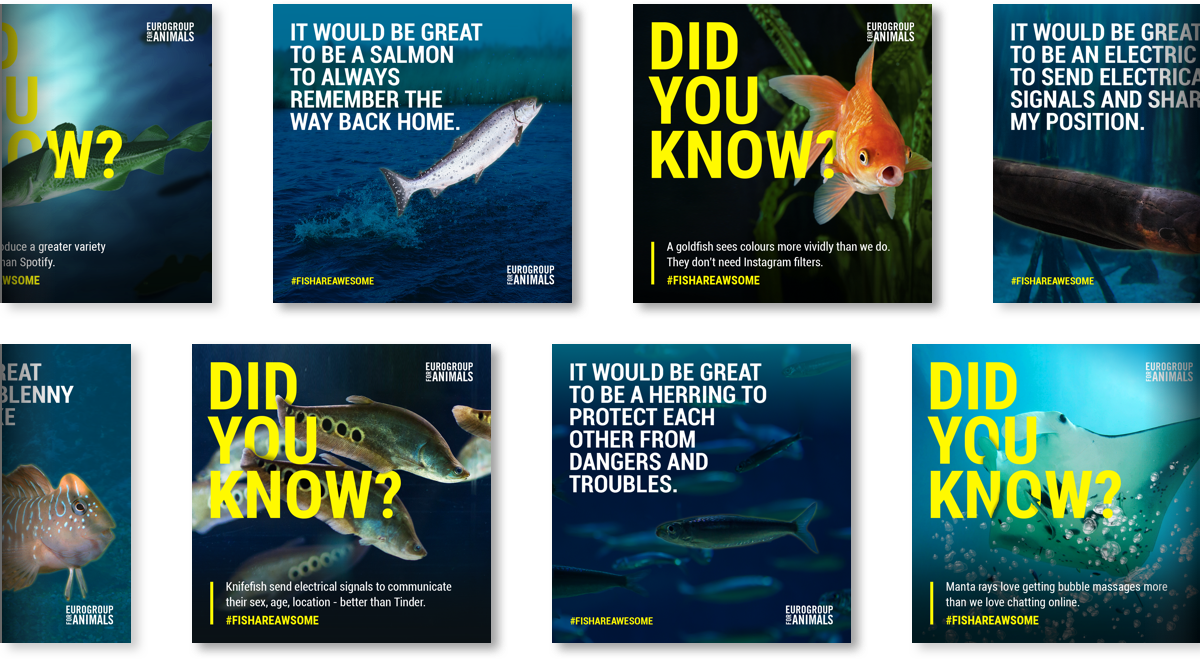 Elephant Protection Initiative –
A meaningful future for elephants
We redesigned the EPI website with a fully refreshed visual identity and a new organization of contents, to facilitate the navigation and drive more users to engage with the campaign.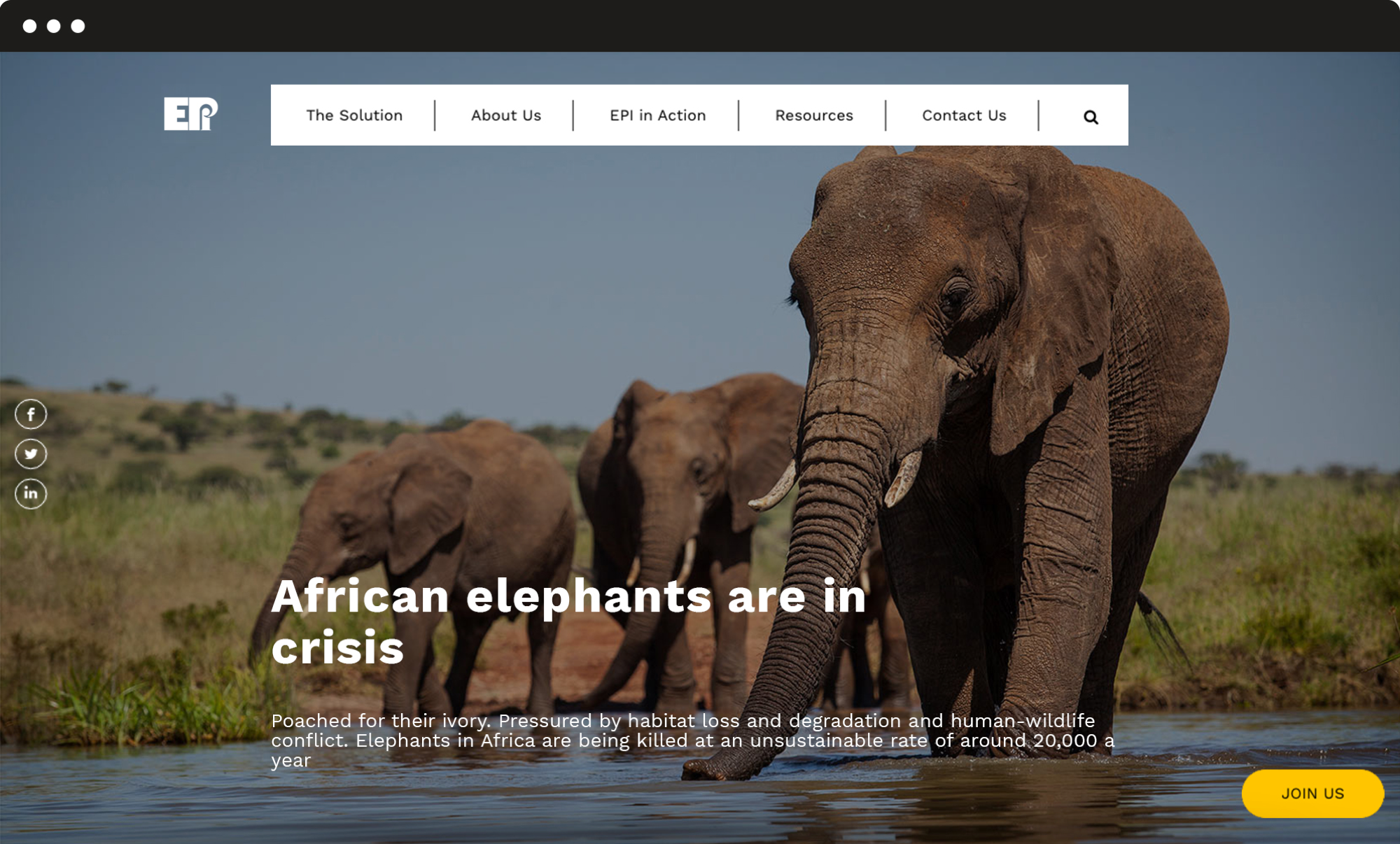 Visual identity
A stronger and modern identity.
We completely restyled the website's visual design, choosing a new colour palette and different layouts for the pages in order to provide the organization with a stronger, more modern identity, and support the users' experience by highlighting the most important contents and calls to action.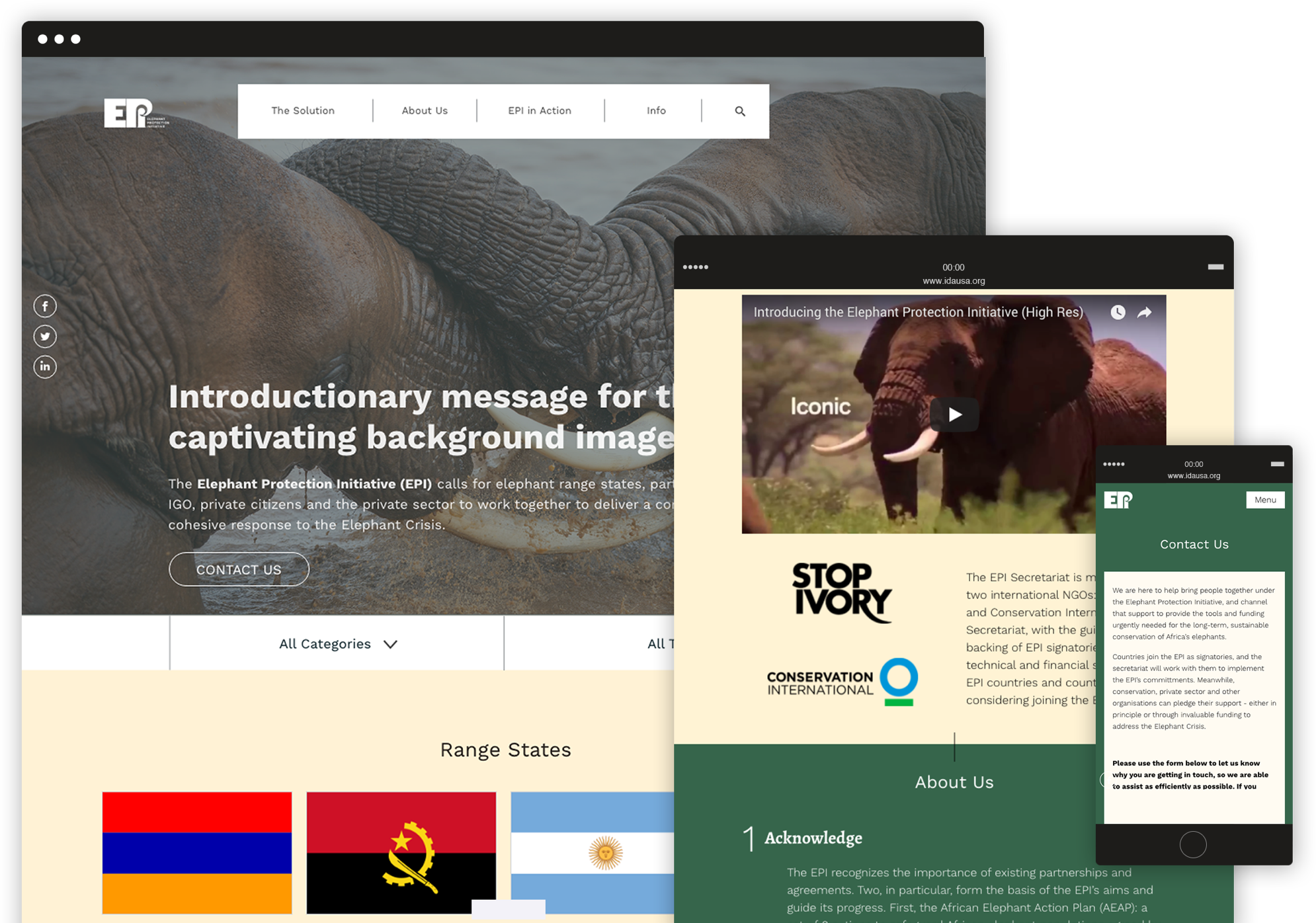 User experience
A new flowchart and implemented solutions.
We designed a new flowchart and implemented specific solutions for the main interactive actions that users can take on the website: a fixed Join us button that opens a pop-up form, and a filter system to navigate through many articles and easily find relevant pieces of content.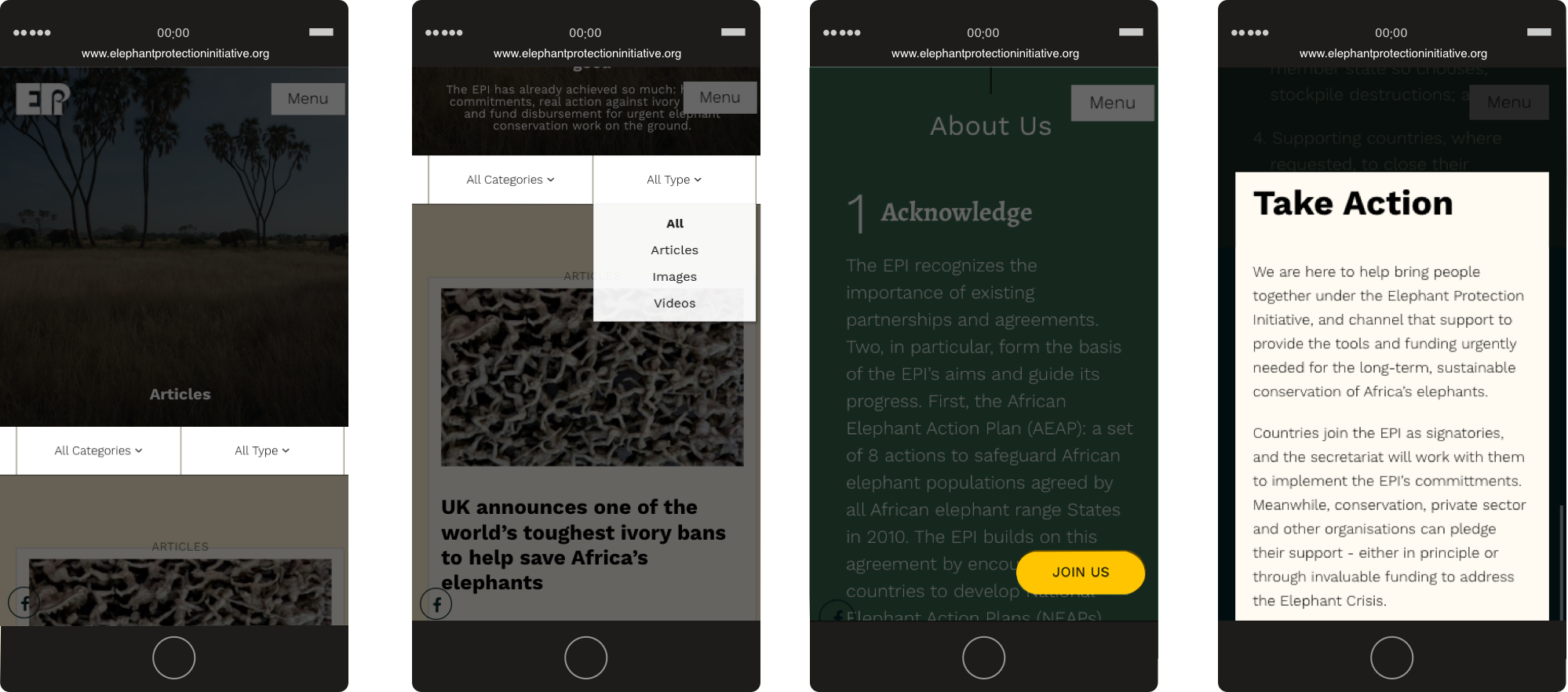 In defence of animals –
Make a difference for animals
Since 1983 IDA US fights for animal rights. They asked us to renovate the organization's brand identity, developing a new logo and restyling the website. Our main challenge was to create a new identity in which key visual elements were maintained with a fresh and inspiring feeling. We also developed a new website based on multi-level information architecture, able to answer specific communication needs for every single running campaign.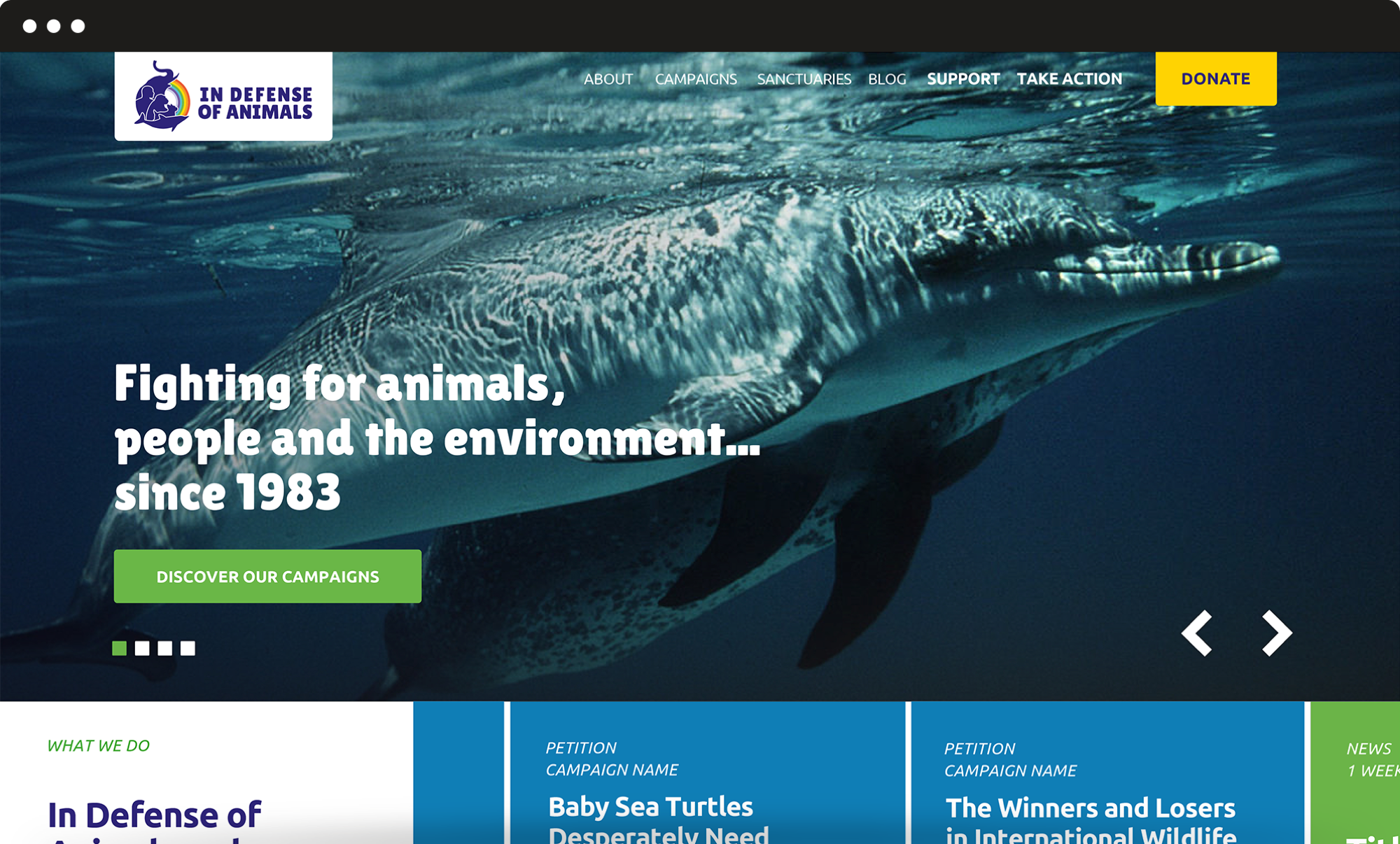 Rebranding
A new visual identity original and durable.
For the redesign of the logo, we developed a composition to renovate the pivotal elements of IDA US brand identity. We identified a new colour palette and a new font that ensure an original and yet durable result. The overall rebranding process resulted in a new visual identity able to better convey the organization's values and objectives.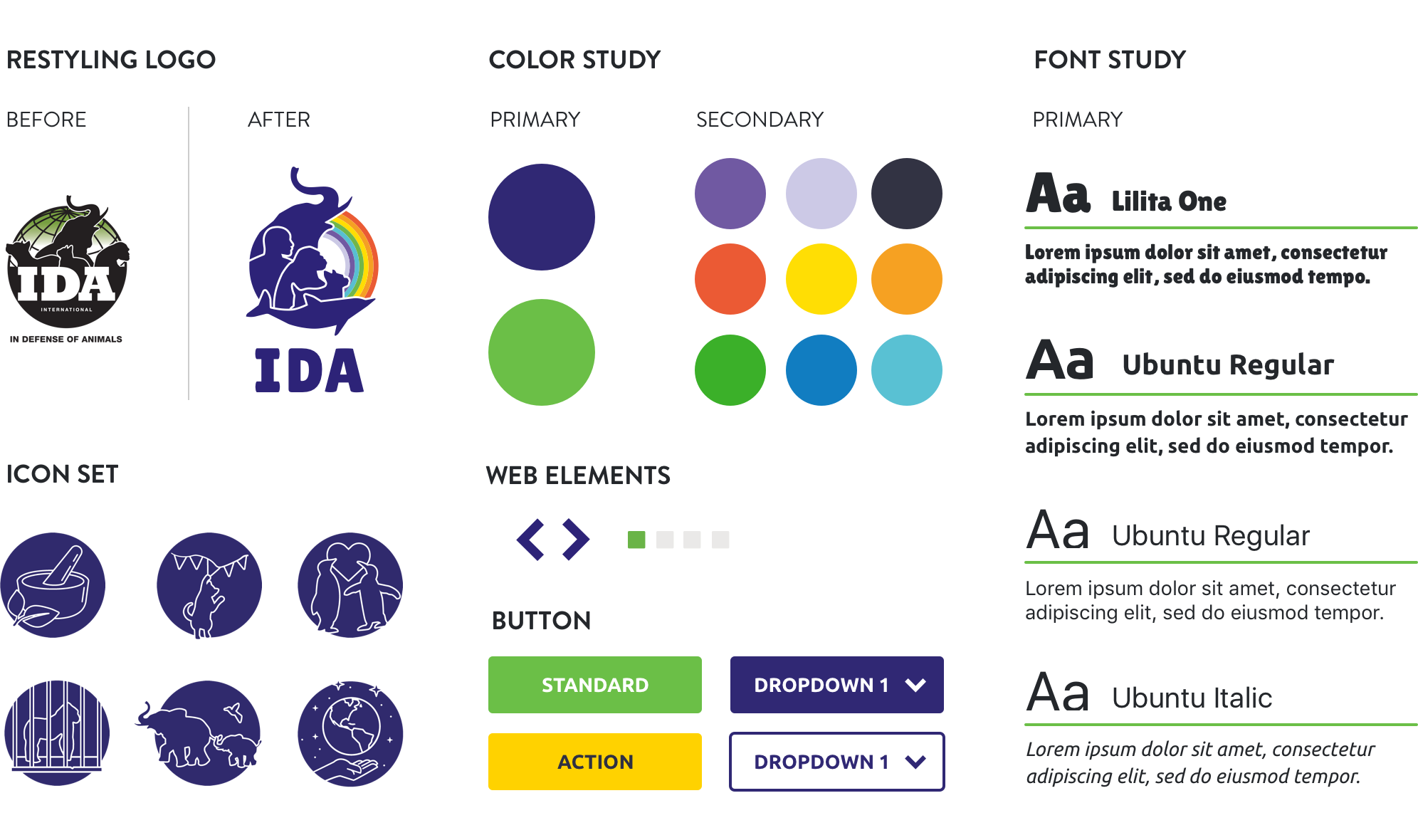 Information architecture
A new structure for a great number of contents.
The main goal of the website was to finalize a new structure for a great number of contents that required to be featured online. We analysed the website performances and analytics and identified scenarios and personas as well as high-priority activities.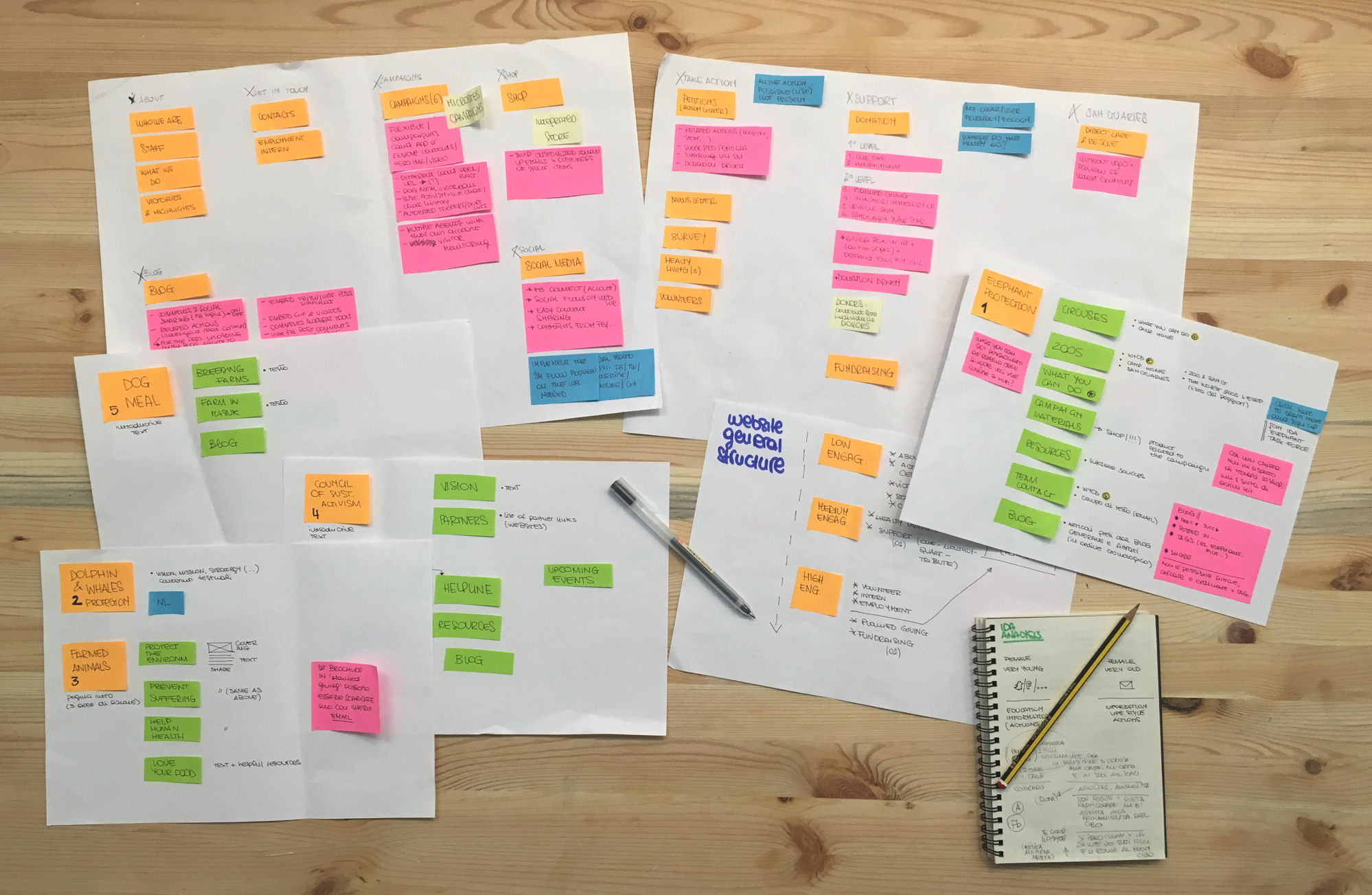 User flow
A simpler process for accessing information.
We organized the user flow around graphic elements and shortcuts. These solutions allowed for a huge improvement of the user experience and simplified the process of accessing information, by offering alternative routes and an optimized funnelling mechanism.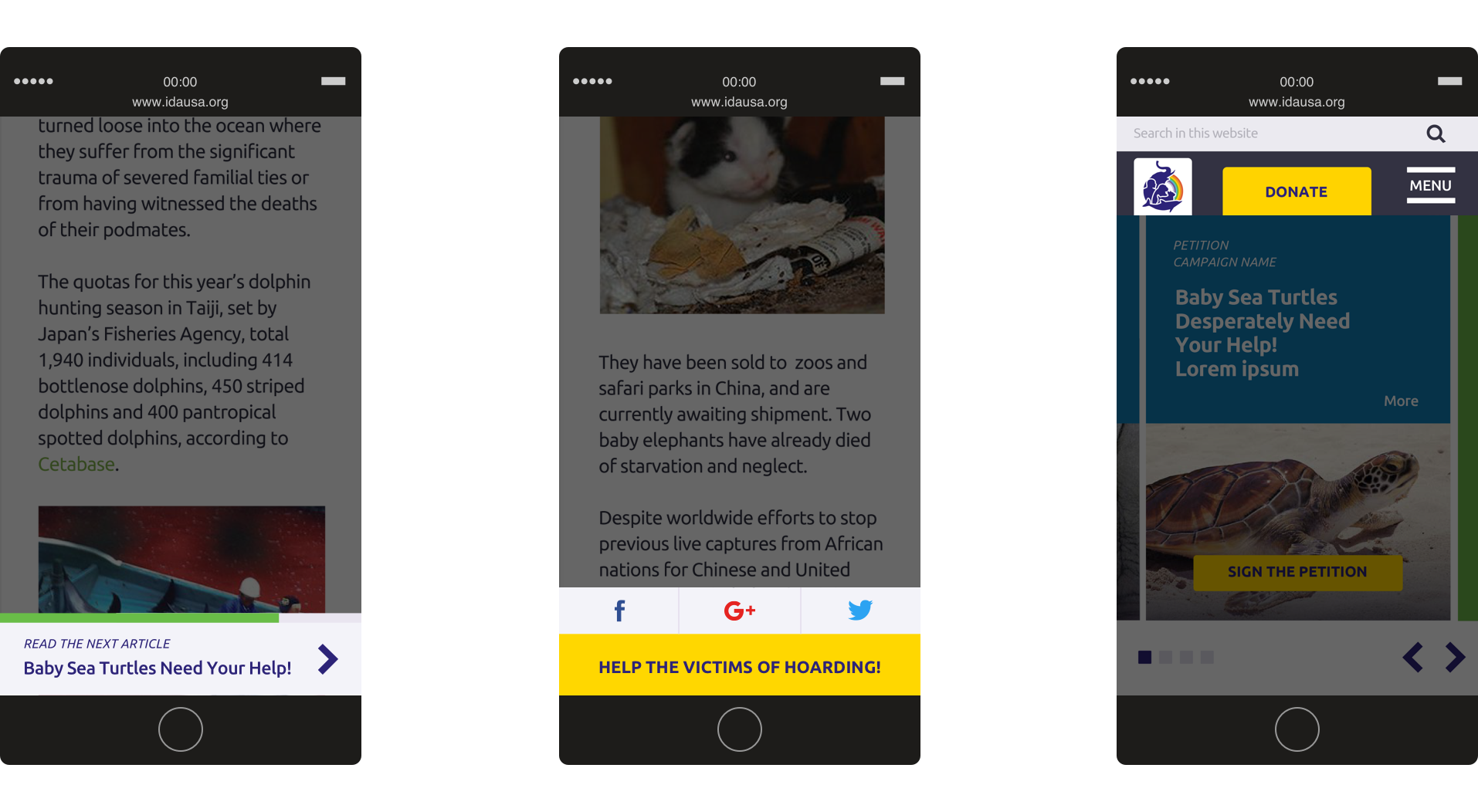 Mini-sites
A flexible and customizable template.
The activities of IDA US are based on multiple campaigns that run simultaneously. To answer these communication needs, we designed a flexible template for campaign mini-sites, which can be easily customized with text, visual elements and specific calls to action.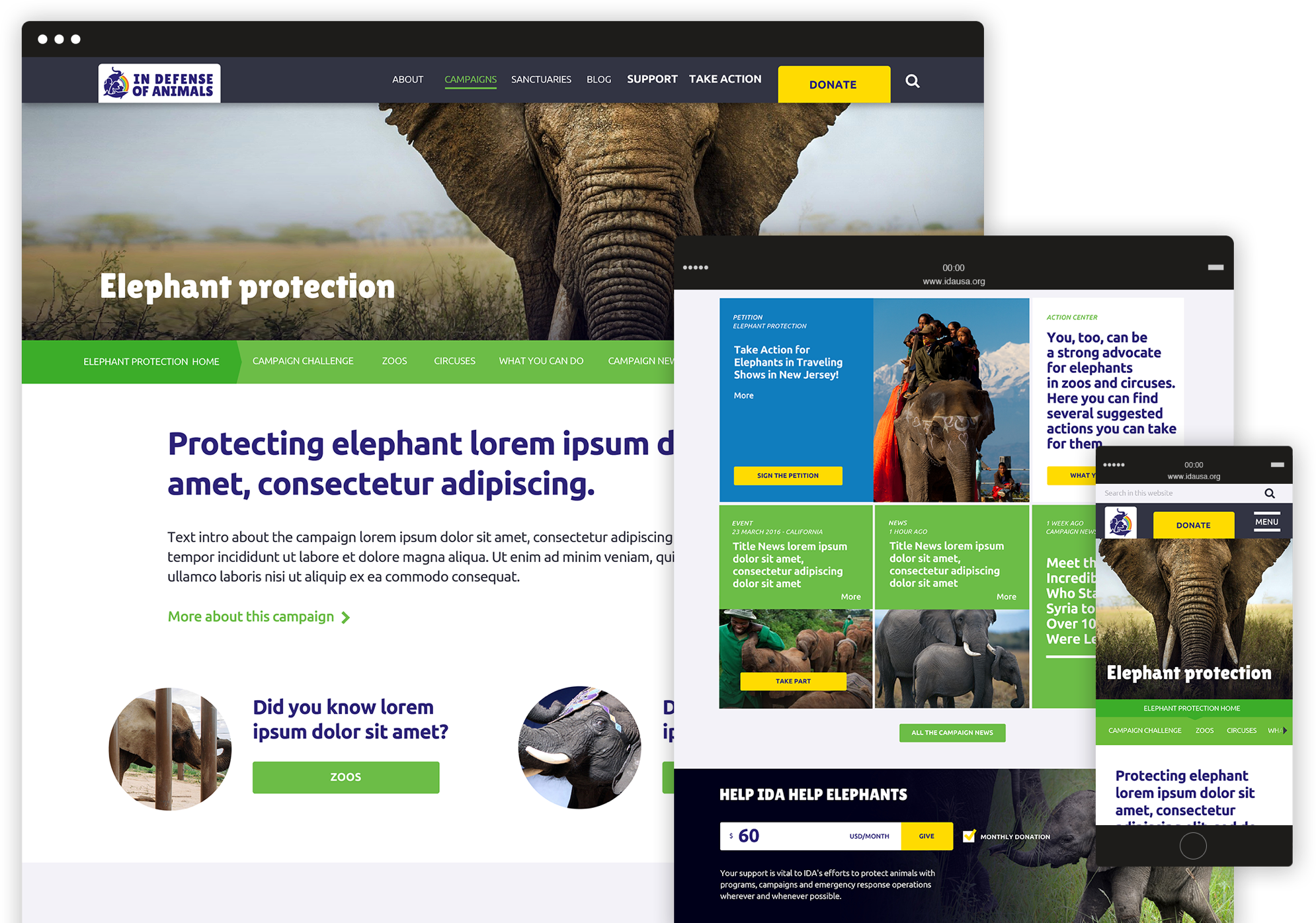 Greenpeace Nordic –
It's not me, it's you
We worked with Greenpeace Nordic, campaigning together to put pressure on local consumer brand, Cloetta, who had documented links to rainforest deforestation. We wanted them to clean up their palm oil supply chain. The company was unwilling to communicate on the matter, so we needed to take more severe action.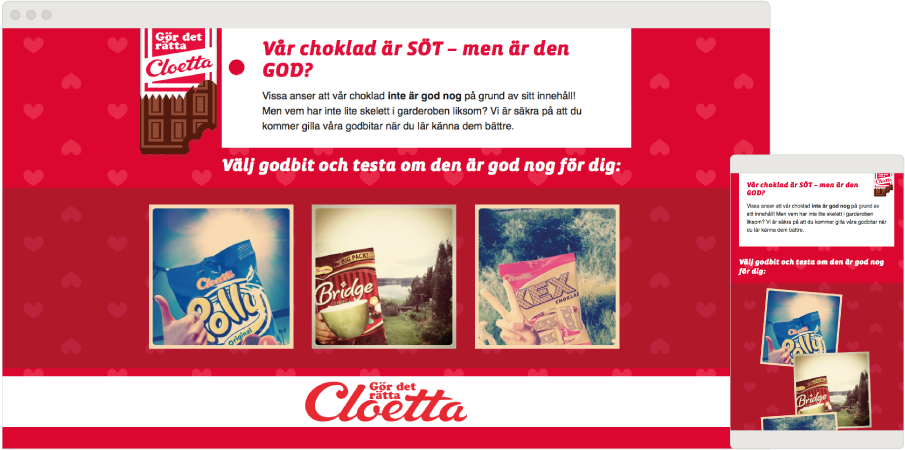 The goal was to create a website where we spoof brand a famous chocolate company. We use brandjacking and humour to engage people, to expose this irresponsible act of the company and how it affects the environment. The idea was to use a mock relationship test to show that the relation between the company and the consumer is deteriorating because the company hasn't been truthful about its activities.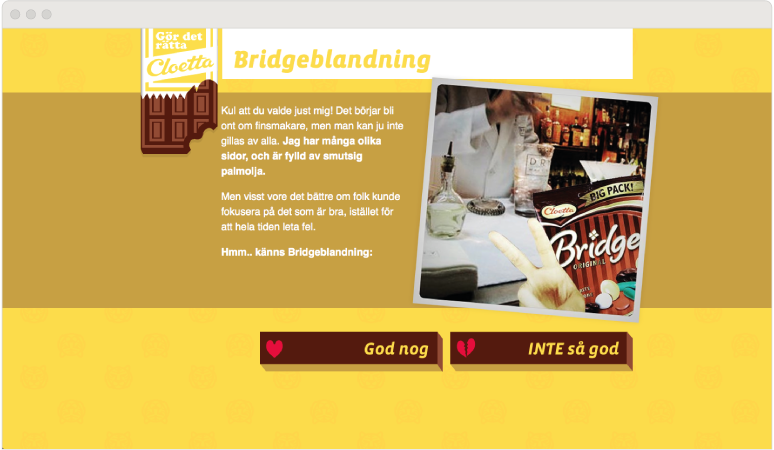 User engagement
When the consumer finds out the facts, after taking the test, he/she email the company to ask it to change it's ways, in order to save their relationship. We did this keeping a light and relaxed attitude, making the customer say to their favourite product of our target brand: "I love you but we need to take a break until you change your ways".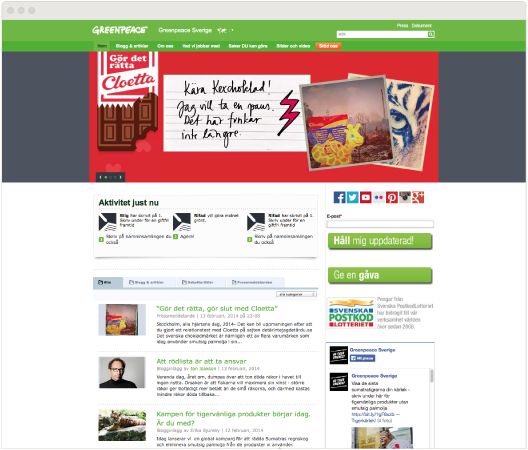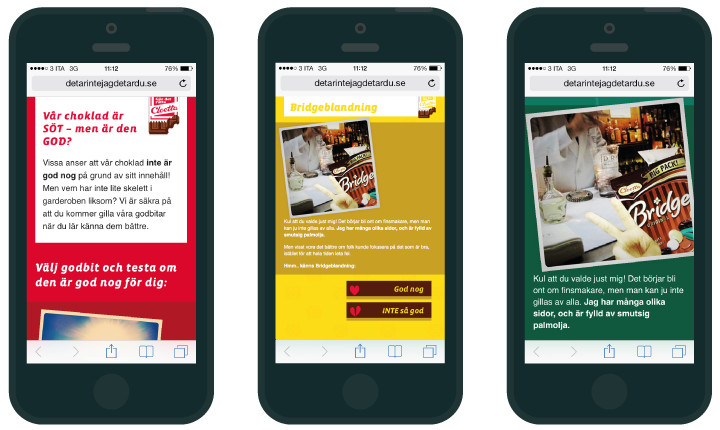 Facebook and mobile apps
After taking action the user is asked to share the breakup letter on Facebook and donate money to help preserve the rainforest and its wildlife. The breakup letter was fun, and little mysterious to raise curiosity and provoke further interest in the subject.

We also developed a mobile application. The aim was to reach people that liked the relationship test and the brand jacking, people with strong connection to the brand, and people already engaged in the issue of rainforest destruction so they can take further action and share this cause.
Results
More than 15.000 Facebook shares within the first 24 hours of the campaign launch. Almost 9.000 emails have now been sent to our target Cloetta, which is a lot considering the small population of Sweden, we got a good spin-off effect in the media.
WWF –
One Planet
"There is only one Earth. Rethink what we are doing to our planet." We produced a video for the launching of WWF's Living Planet Report 2012.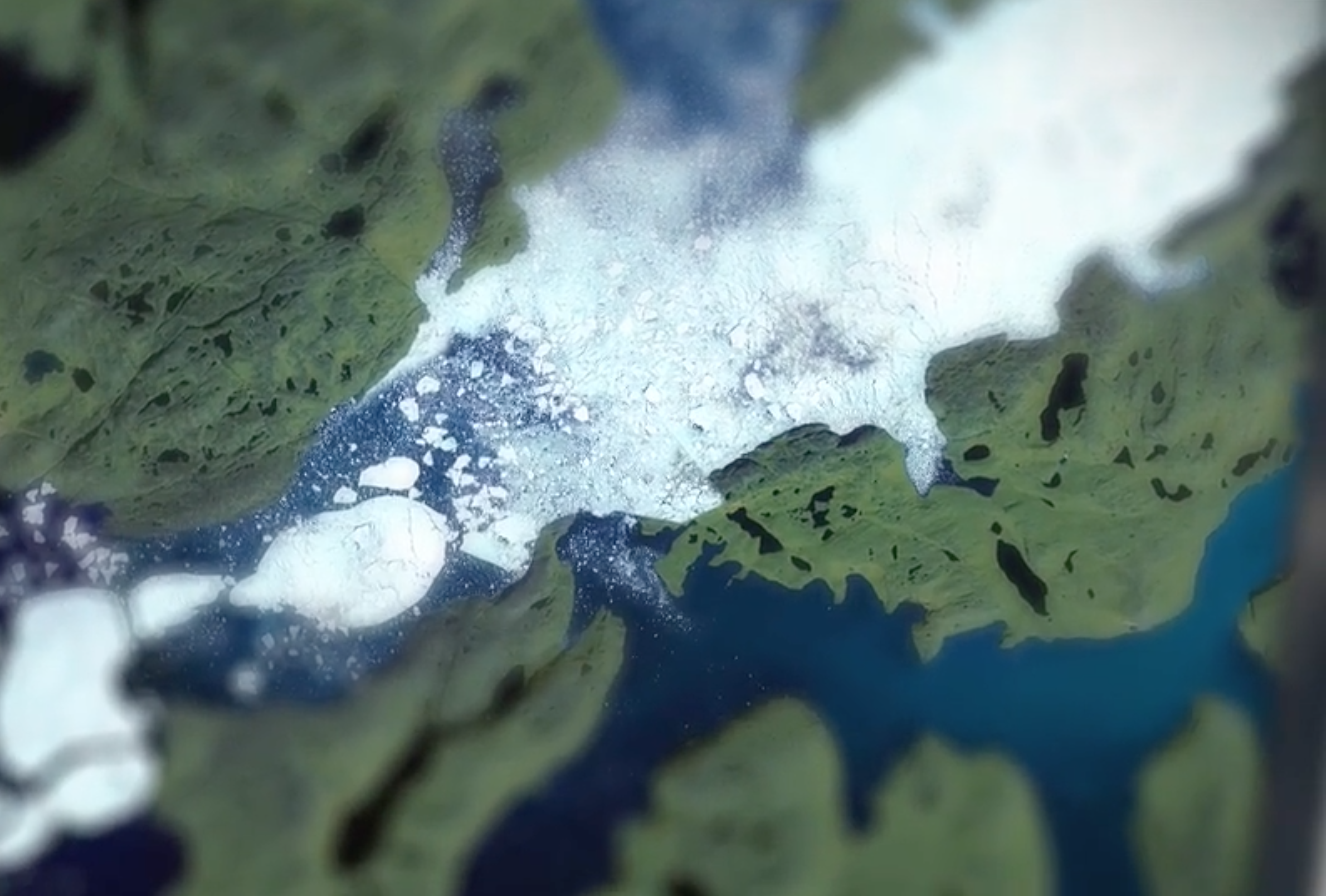 Video
The visuals for the One Planet film were created by researching the NASA and ESA archives for photographs where mankind's impact was clearly visible from space. These included deforestation and forest fires, water usage, agriculture, smog, coastal pollution and the impacts of climate change on glaciers and polar ice. The images were then "nudged" into human footprint shapes digitally, with care taken not to exaggerate the impacts but to emphasize their human origin.
The images were then layered and animated to give the impression they were being observed the through windows of the International Space Station or other orbiting craft. A shallow depth-of-field both focuses the viewer's attention on the details and gives the feeling of miniature photography, so we get the impression this is a small planet, on which we should "tread" lightly.
We created this video with Daniel Bird and Jaroslav Mrázek.