WWF –
Protect wildlife
WWF asked us to create an engaging social media pack to get as many European citizens as possible to participate in the Commission's public consultation on the Water Framework Directive.
Our challenge was to encourage our supporters to share this message with people who are not so engaged in water/environmental issues.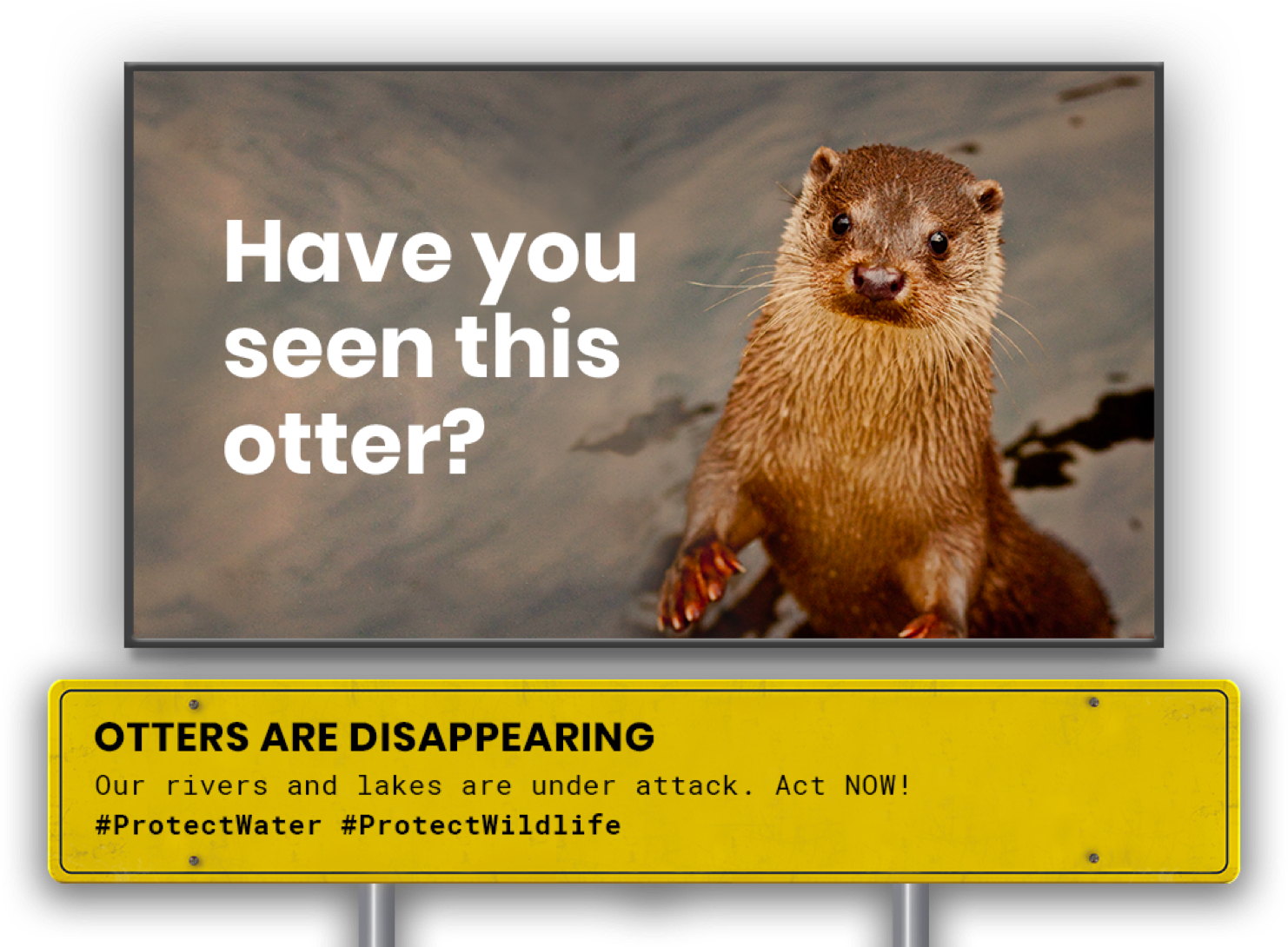 Social cards
The missing posters.
Inspired by the famous "missing" posters, we created 3 series of catchy and colourful social media cards to promote the campaign. We explored traditional and new forms of "missing" posters, in order to give more emphasis to the photograph of the species at risk.


Eurogroup for Animals –
Fish welfare campaign
We were asked to create a communication toolkit that would spread awareness of fish welfare issues through its member organizations' social media channels.
Our challenge was to produce assets that would combine scientific notions with creativity and irony, in order to immediately catch the audience's attention and subsequently convey the core message.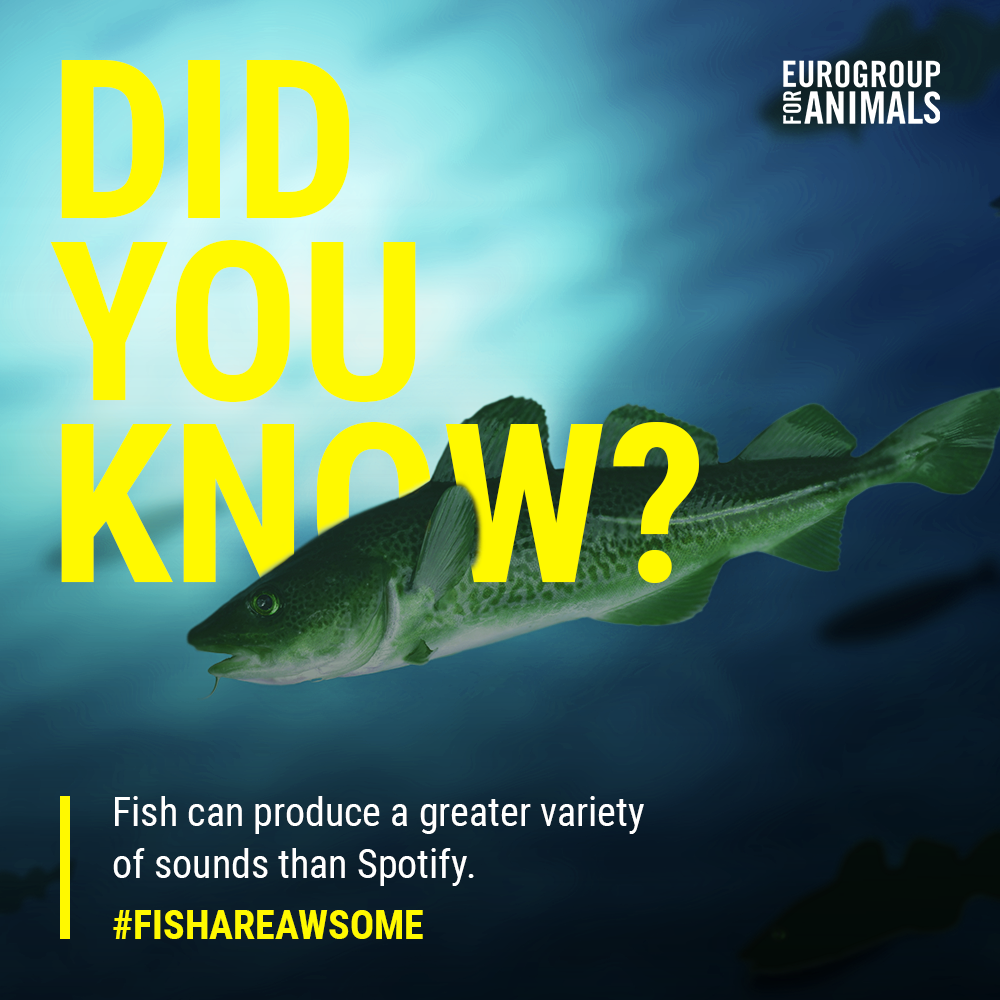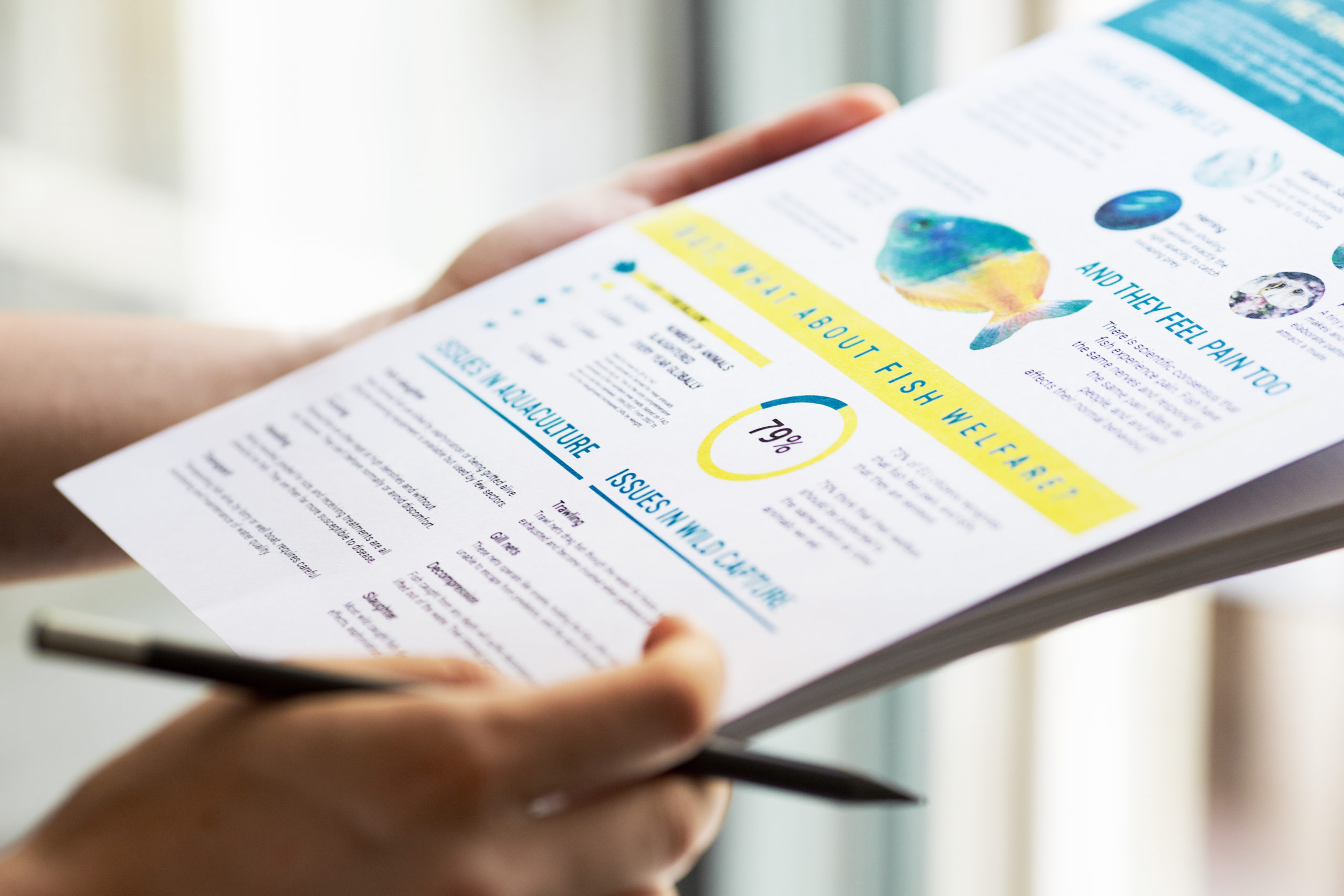 Campaign strategy
A complete, coherent and customizable communication toolkit.
We've decided to include in the final toolkit, in addition to social media assets, a data-factsheet and a list of specific social media guidelines concerning strategic and practical tips besides the full templates package.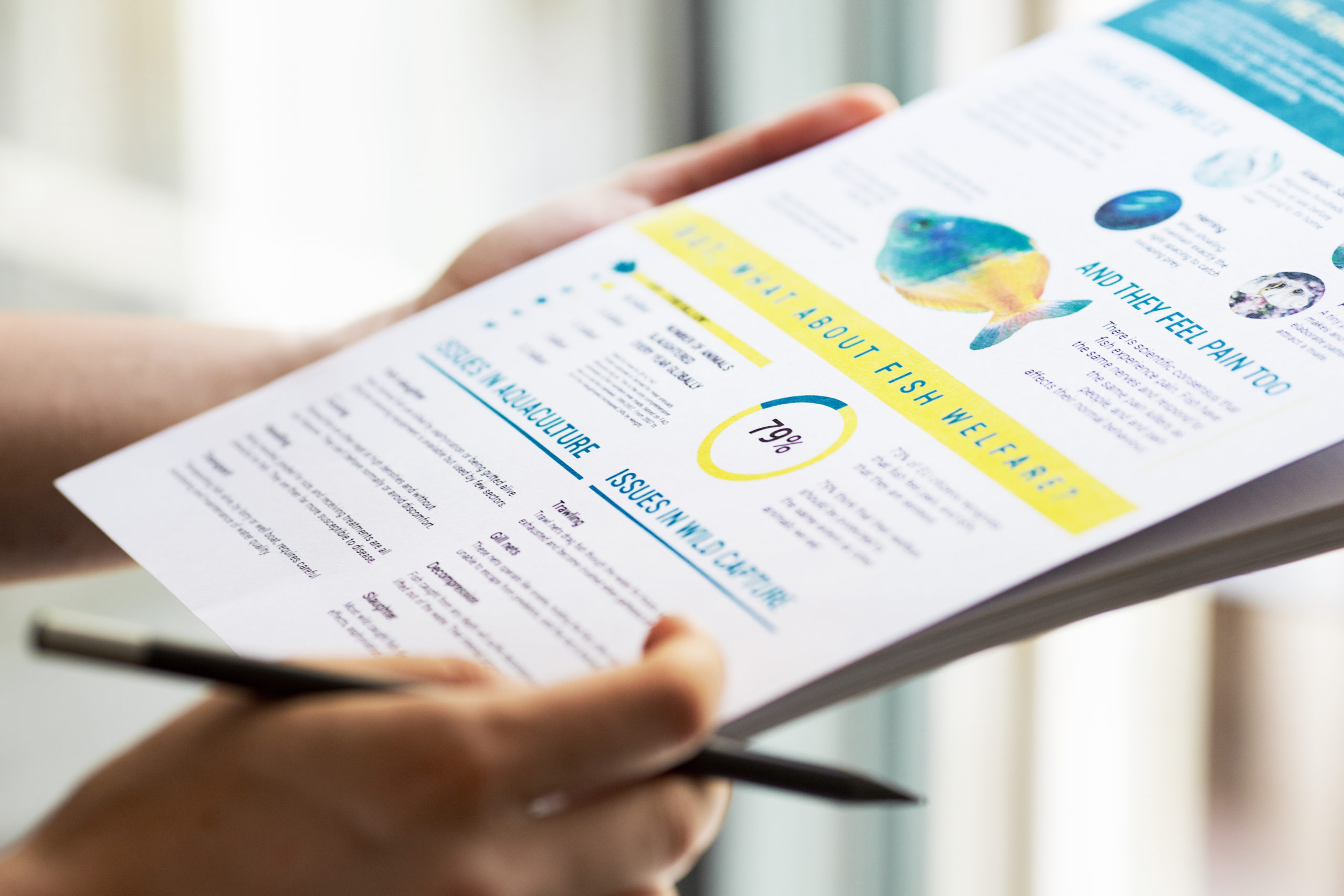 Animated videos
Positive storytelling and cute images.
To enrich our kit, we added animated videos to talk about fish welfare in a funny way. Thanks to a combination of positive storytelling and cute images, each video represents a tiny glimpse of knowledge for a big leap in awareness.
Polls
Capture and keep the audience's attention.
We encouraged the audience's engagement and interaction with some short funny animated polls; they are a great tool to acknowledge fishes' importance and coolness!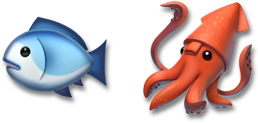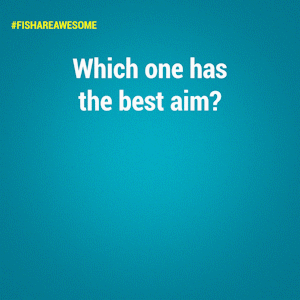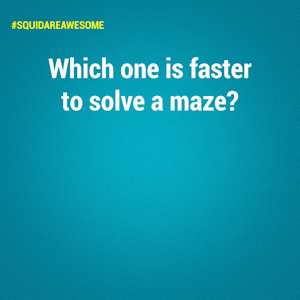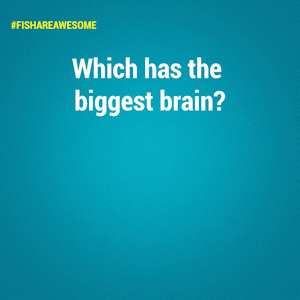 Social cards
A set of colourful social cards and animated gifs to engage the audience and boost their interest in the awesome world of fish.
Each asset tells a different scientific fact about a marine species, using an informal tone of voice and ironic associations with the tech world for an extra layer of fun.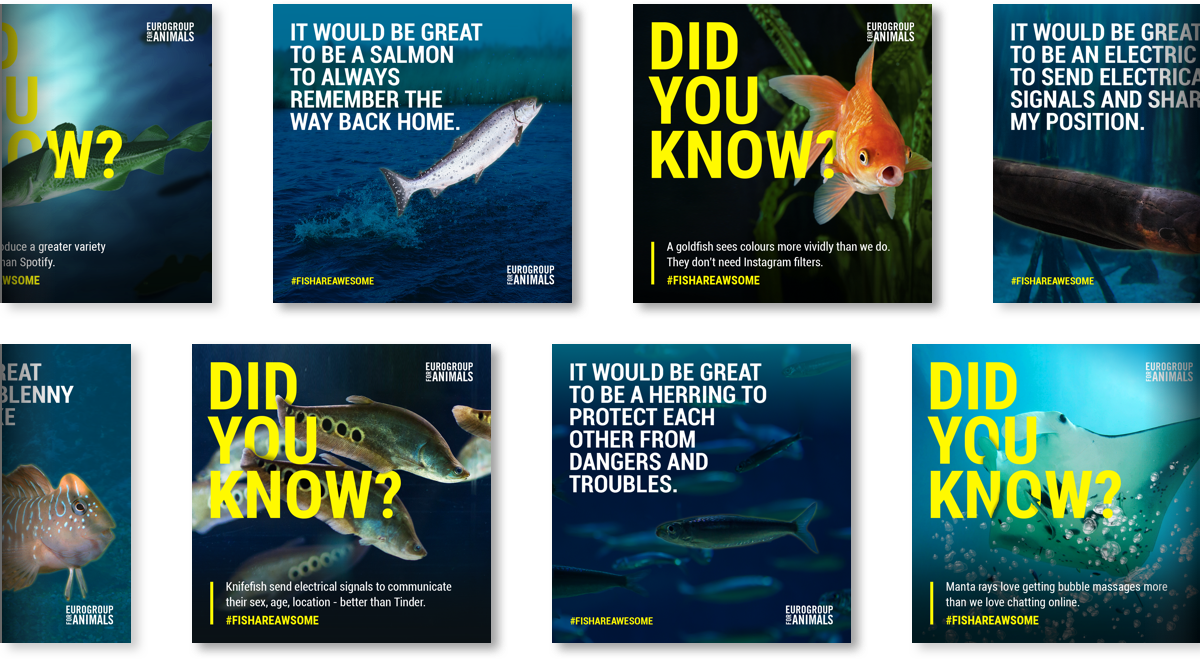 Greenpeace –
I know who grew it
I know who grew it is a project realized for Greenpeace to promote a new and better relationship with food. The industrial economy is destroying the natural resources and wildlife, affecting human health, poisoning our food, water and soil and impoverishing farmers. It is also narrowing down our food diversity.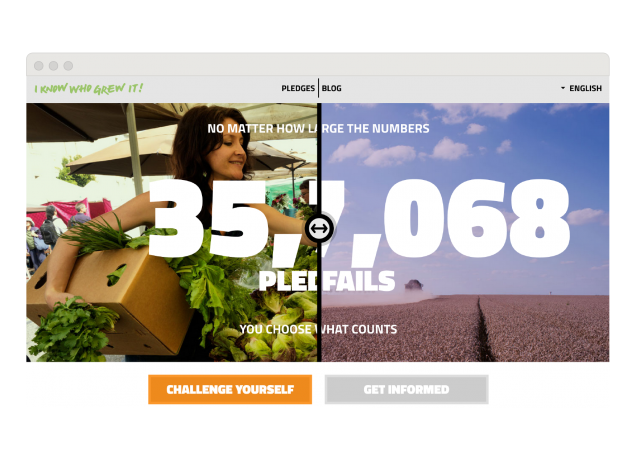 Blog and pledges
The principal aim of this project is to inform and invite people to take actions that can improve their relationship with food.
That's why we created two sections:
A blog, where users can find information about how the food production process is changing, what we are failing and what we can do better.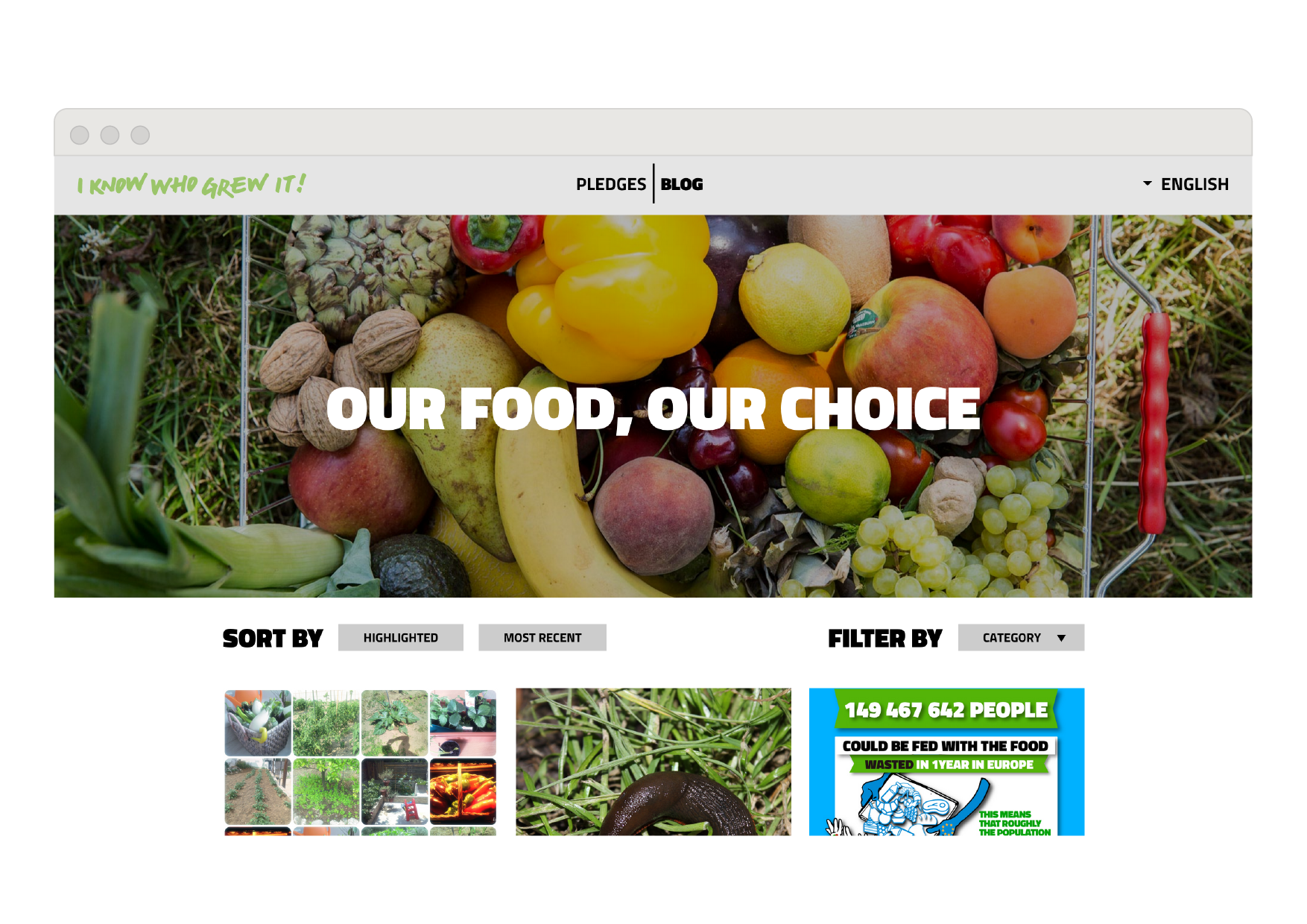 A pledge page, where everyone who wants to take a pledge about their food choice – such as buying at the bio market or reducing the food waste or making compost – can do it and share it through their own social network.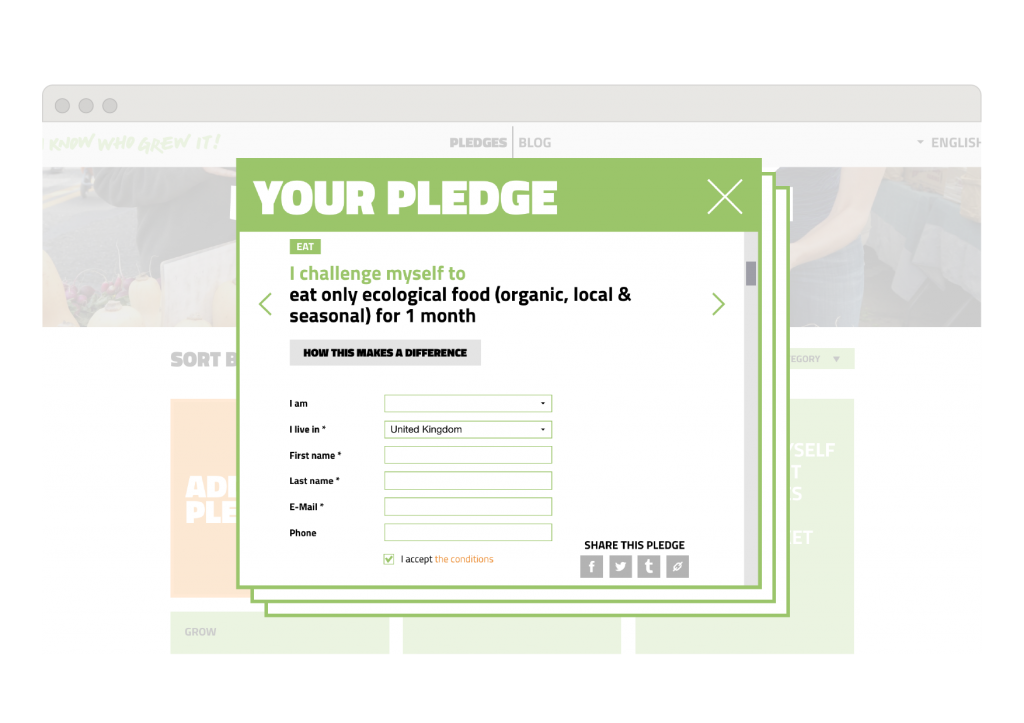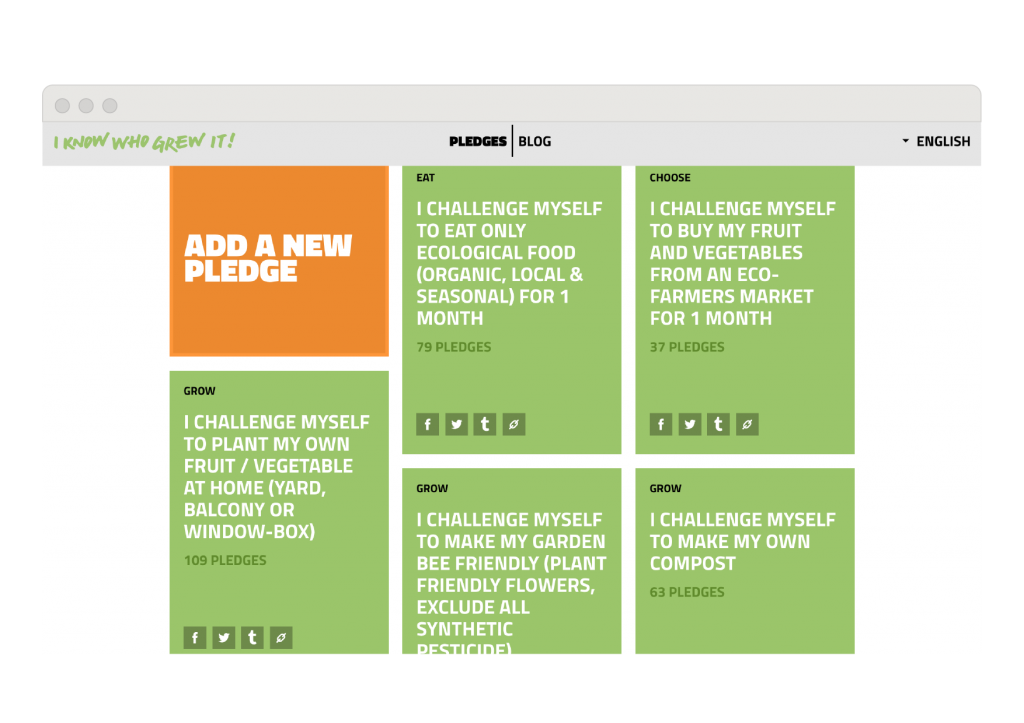 Oikos –
Choose local food
We worked with Oikos, an independent organization that promotes worldwide the sustainable use of natural resources as tools to fight against poverty, producing for them an animated short film.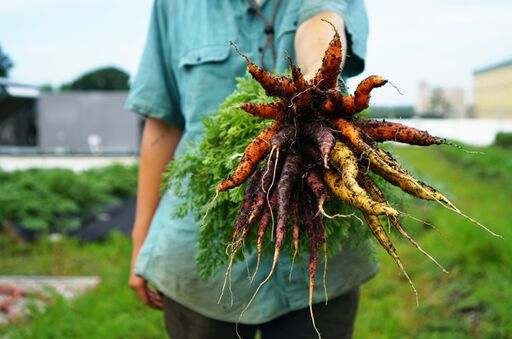 Video
The long and difficult route of an apple.
To support Oikos Institute's goals of promoting sustainable resources by encouraging local commerce, we produced this animated video showing the long and difficult route that one single imported apple has to endure before reaching the end consumer, the environmental consequences and the artificial enhancements it needs for looking fresh.